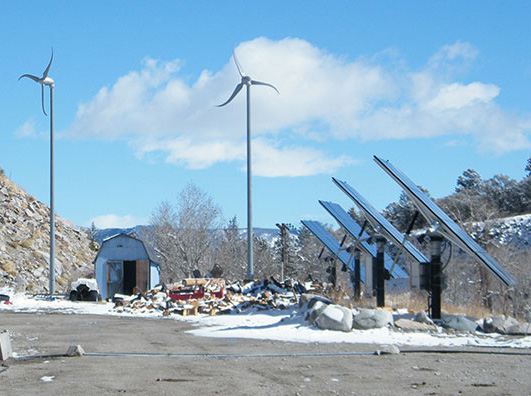 Solar: We have installed 4 new solar panel arrays.  These arrays move with the sun. The reduce our energy cost for the main building by 30%
Wind: Two small wind generators are at the end of our property utilizing the windflow comig through the canyon. Our windmills generate about 10% of the energy use in our main Lodge building.
Geo-thermal heat: As a result of our fire last April, we have thoroughly  remodeled the main lodge building. We have been able to utilize our own hot water to heat our lodge rooms, as our water naturally comes out of the ground around 127 degrees and only has to be heated to 157 degrees to heat the building. The hot water will flow through the floors of the main building.
Other building upgrades include:
Double insulated walls
Triple-paned windows
Organic Latex Beds with Bamboo covers.
New showers in rooms
Installed new LED lighting: New wiring throughout the building – upgraded most lights to LED.
Aquaculture – Tilapia and Koi Ponds