Open
365

days a year!

Here is an inspiring place for you or your group to gather in a relaxing, caring and supportive atmosphere for a variety of events and purposes. We invite you to join us to relax, celebrate, share, heal, or just kick back and discover the joys of living, whether you come for individual or group retreats, holidays, reunions, healthful vacations, seminars or workshops.

All accommodations include use of the Hot Springs Soaking Pools & Sauna.
There are no TV's, phones or air conditioning in any rooms or cabins, by design.

Prices Subject to Change Without Notice.
Check-in after  4:00 p.m.
Check-out is at 1:00 p.m.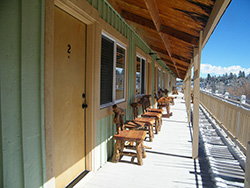 Lodging Room Rates
Rooms are 2 double beds or 1 king bed
Monday – Thursday
Winter Rates – $109
Summer Rate – $129
Friday, Saturday,Sunday & holidays
Winter Rates – $129
Summer rate $159
$35 for each additional adult /$25 additional each child.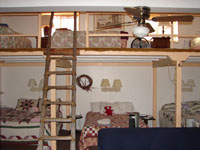 Dormitory Rates
$55 pp in single bed (loft]
$65 pp in double bed.
$85 for 2 people in double bed
Exclusive for Co-ed Dorm $350, exclusive for Women's only dorm $300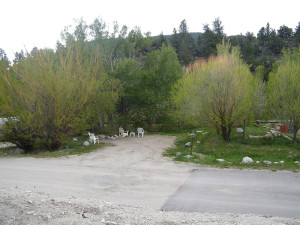 Campsite Rates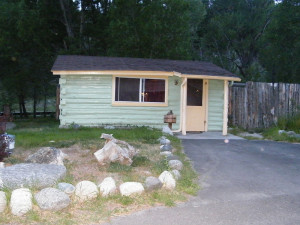 view photos
One room cabin with a king bed
$195/night for 2 people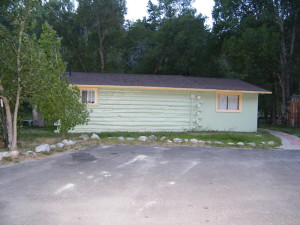 view photos
2 bedroom cabin with 3 double beds
$275/night for 6 people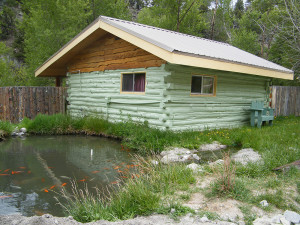 view photos
1 bedroom cabin with 2 double beds
$235/night for 4 people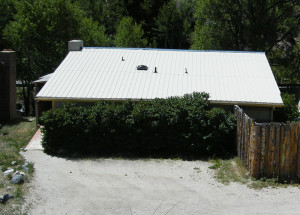 view photos
3 bedroom house with 2 double & 2 queen beds
$315/night for 8 people
5 Bedroom House – 2 king & 3 queen beds
Terra Verde is located 1.5 miles down the road from Cottonwood Hot Springs.
There is NO private pool. Access to hot springs included.
Tera Verde Rates
Rm #1 or #2 – $135- Queen
Rm #3 – $125 – Queen
Rm #4 – $145- King, Creek-side exit downstairs and private bath
Rm #5 $155- King Suite, downstairs, extra sofa bed, very private and private bath
$35 for each additional adult /$25 additional each child.
Exclusive Rental $550 per night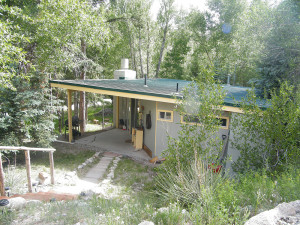 view photos
2-bedroom Cabin with 2 double beds.
There is NO private pool. Access to hot springs included, just down the road.
Havens Rates
This is recommendation for people wanting to celebrate a special event in a unique mountain cabin with a secluded, very private, and beautiful setting.
2 people $175
4 people $215
6 people $255

---
Your staying with us is very important to us as it allows us to continuously improve our  facility, and makes our progress as a healing center possible.
Incentive Discounts for Longer Stays
Blackout time Feb, March, July, August, September, and Holidays for all lodging.
3 nights 10%, 5 nights 20%, 7 nights 25%
*Swimsuits are required at all times*
Please bring robes, flashlights and appropriate footwear for the pool area.
For the comfort and relaxation of all of our guest, there is NO alcohol use allowed on these premises. It is a liability issue and not in alignment of the health and well-being of our guest."
---
PLEASE CALL TO CHECK AVAILABILITY & MAKE RESERVATIONS.
RESERVATIONS: A credit card is required to make a reservation, otherwise a 50% deposit by check or money order is required within 10 days of making the reservation.
CANCELATIONS POLICY:Our cancelation policy is Rooms 48 hours notice. Cancelation on Cabin is 1 week. If you do not show up for your reservations, the full amount of the lodging (and massages, if any were booked) will be charged to the credit card on file or Deposit is forfeited.
CHECK-IN:  after 4:00 pm
Guests who arrive before check in time may enjoy the pools and sauna.
We do not guarantee rooms will be available until  after 4:00 pm.
CHECK-OUT: 1:00 pm
PET POLICY: No pets are allowed in any of the lodge rooms. Dogs are allowed in cabins only for $10 small dog, $15 med-large dog (per dog per night). Dogs must be well behaved and on a leash at all times. Do not leave any dogs unattended.
By design, there are NO PHONES, NO TELEVISION and NO AIR CONDITIONING in the rooms or cabins. Guest may use the pay phone, TV-VCR/DVD, computer, and library in the main lodge.
We offer coffee and light breakfast in the morning, this is a pay as you eat.
We do not have a dining facility on site, however the town of Buena Vista has several restaurants within a 10-15 minute drive from Cottonwood Hot Springs.
We accept ITEX, please call for details & restrictions