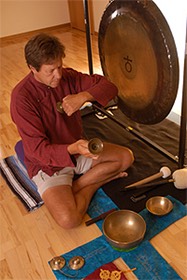 Thursday, March 24, 2016 7:00 p.m. – 8:00 p.m.
Karma Sonam Dorje
Sound Pioneer and Recording Artist Richard Rudis (Sonam Dorje) creates transformational waves of Sound Bathing for each participant with the rising and falling rhythms, tonalities and vibrations of an Earth Gong tuned to the sound of the primordial AUM – 'the Universal chord' – the vibrational signature of our Mother Earth (Ghia) as she dances with our Sun (Sol).
The Gong Bath™ will be held outside at our hot springs pools, weather permitting. Our great room will be the alternative location.
Cottonwood Hot Springs 18999 Co Rd 306 Buena Vista, CO 719-395-6434 or 1-800-241-4119
$20 at the door