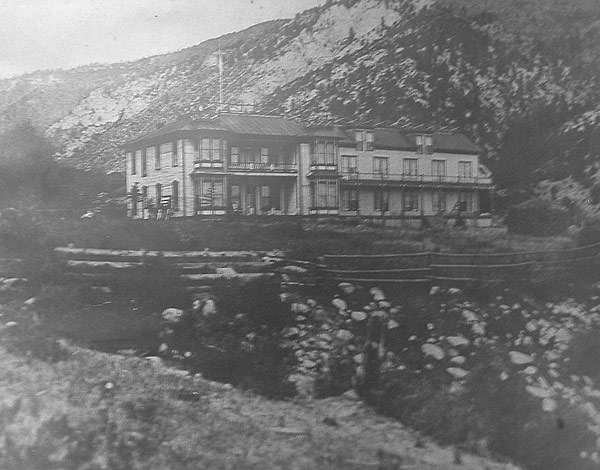 Cottonwood Hot Springs was a hotel and Sanitarium. Located 5.5 miles west of Buena Vista, at the entrance of Cottonwood Canyon.
The main structure housed the reception room, office, library and parlor. The private rooms of the medical attendant, bridal chamber, dining hall and kitchen. The two outside wings were for sleeping apartments, and bathing purposes. The water from the lower springs flowed hot and was used in the treatment of catarrh and for drinking purposes. The water from the upper springs was conveyed to the house by pipes; and was used for bathing purposes as a specific in the treatment of rheumatism and dyspepsia. The water was said to be between 132 and 150.
Historic Cottonwood Hot Springs
The Reverend and Mrs. J. A.D. Adams, M.D. built the hotel in 1878 before any railroad in the county, when all materials and furniture had to be brought in by freight teams from Colorado Springs. "Mrs. J. A.D. Adam, M.D. is a physician of throughout education, rare ability and long experience, and under her care aided by these life-giving waters, almost certain restoration to health is assured to the invalid, and a longer and happier life to those who visit here and need no physician."
In 1911 there was a fire, and Cottonwood Hot Springs was destroyed. It was owned by Gabe Durst at the time and wasn't rebuilt.